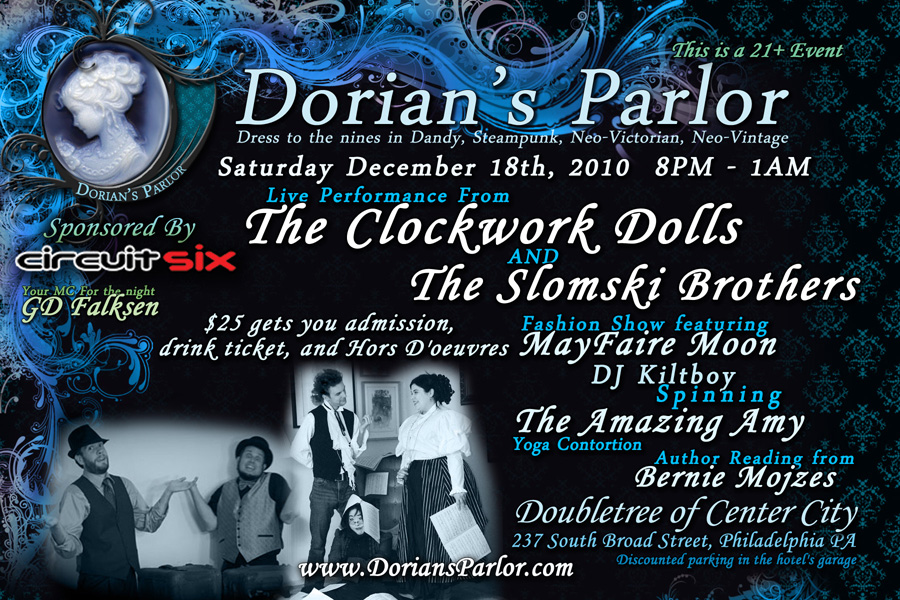 Every month like clockwork, an assortment of people converge on the Ormandy Ballroom at the Doubletree Hotel in Philadelphia. Young, old, students and professionals come together to dance, sip cocktails, enjoying hors-d'oeuvres and partake in a one-of-its-kind lineup of bands, DJs, circus performances and high fashion from foremost neo-vintage designers. Dressed to the nines, they have one thing in common – a love of the genre known as Steampunk.

Since its debut in June 2010, Dorian's Parlor has been picking up steam, so to speak, with each event surpassing the last. It has been highlighted in media outlets such as The Philadelphia Inquirer, Geekadelphia, Culturemob, City Suburban News and Philadelphia Weekly. November's event drew the largest crowd yet, with performances by the band Ego Likeness, DJ Johanna Constantine and a fashion show from Philadelphia's Delicious Boutique. December's lineup features Steampunk author G.D. Falksen as MC, a performance by the neo-classical Steampunk band The Clockwork Dolls, vaudeville from The Slomski Brothers and a fashion show featuring the Philly-based corset designer MayFaire Moon. Philly's own DJ Kiltboy will spin, and the 55-year old Amazing Amy will wow you with her flowing feats of flexibility. And if all that isn't enough to draw your interest, there will also be a book reading by author Bernie Mojzes and portrait photography by Hugh Casey to help memorialize your fantastic finery. All aspects of the event's production — lighting, sound, stage design and production management — are provided by Philadelphia's own CircuitSix, LLC (www.circuitsix.biz) as part of their ongoing sponsorship and patronage of Dorian's Parlor.

The next 21+ event will be held Saturday, December 18th, from 8 p.m. to 1 a.m., in the Ormandy Ballroom of the DoubleTree Hotel, on the Avenue of the Arts in downtown Philadelphia. Admission is $25, and includes a drink ticket and hors d'oeuvres.