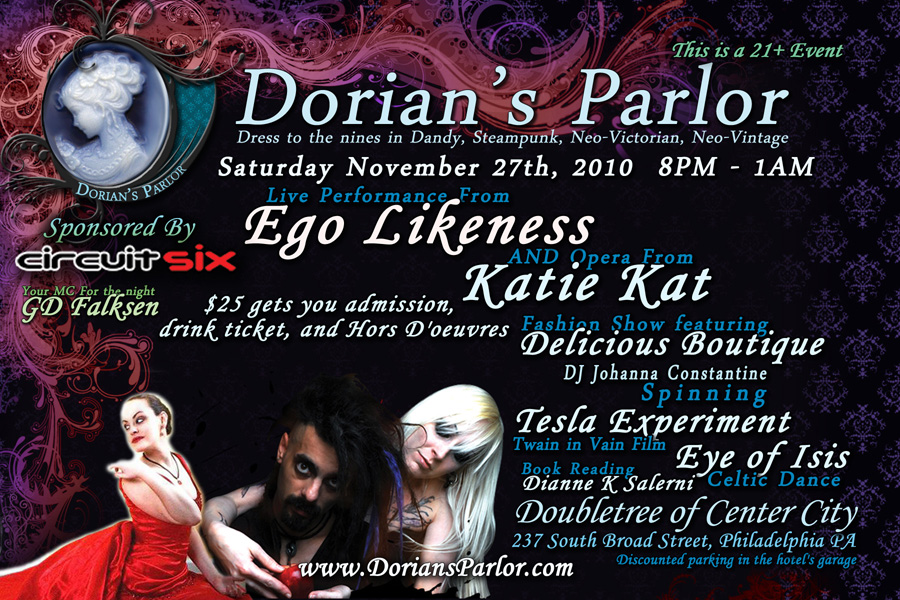 Introducing the next Dorian's Parlor Event. Dandies mingle with aristocrats and daring explorers while sipping cocktails, enjoying hors d'oeuvres and partaking in a one-of-its-kind lineup of bands, DJs, circus performances and high fashion from foremost neo-vintage designers. They spill onto the sidewalk outside the Ormandy Ballroom and take over late-night food spots, attracting curious looks from passers by. Who are these mysterious people from another era?

Dorian's Parlor is a monthly convergence of Steampunk and neo-vintage enthusiasts, a sensuous spectacle of vintage glamour highlighting the best of Philadelphia's alternative culture. Steampunk is a fast-growing cultural phenomenon which melds Victorian aesthetics with modern (and sometimes futuristic) technology to create a fantastic spectacle of fashion, art, music and literature.

November's lineup includes the immensely popular band Ego Likeness, DJ Johanna Constantine and a fashion show from the delectable Philadelphia's Delicious Boutique. Steampunk author G.D. Falksen will MC, the Royal Baritarian Players will perform, and an animated film by Adriel Garcia will be featured. Opera singer, Katie Kat (who trained with Maria Callas's voice coach and local soprano Trisha Kotch) is also on the play bill. Young adult Steampunk author Dianne K. Salerni will be in attendance as well, reading excerpts from her newest work. All aspects of the event's production — lighting, sound, stage design and production management — are provided by Philadelphia's own CircuitSix, LLC (www.circuitsix.biz) as part of their ongoing sponsorship and patronage of Dorian's Parlor.

The next 21+ event will be held Saturday, November 27th, from 8 p.m. to 1 a.m., in the Ormandy Ballroom of the DoubleTree Hotel, on the Avenue of the Arts in downtown Philadelphia. Admission is $25, and includes a drink ticket and hors d'oeuvres.